About BB Glow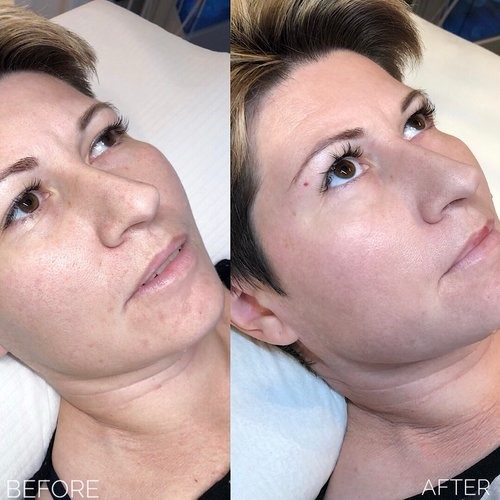 Using a derma pen pigmented serum creates a permanent foundation, conceals all imperfections such as pigmentation, acne scars, and uneven complexions.
WHAT IS A BB GLOW TREATMENT?
A skin glow treatment is the latest trend in skin care technology. This method of skin care is a popular treatment in Singapore and Korea, producing amazing results. Collagen is a natural protein found throughout the body, and it helps to give structure, elasticity and vibrancy to your skin. Unfortunately, as you age, your body produces less collagen, which in turn leads to wrinkles, and a loss of skin elasticity and firmness.
Stimulating collagen production can improve the look and texture of your skin and lessen the appearance of fine lines and wrinkles quickly, safely and affordably. BB Glow treatments also supplies your skin with BB serum, which is made from natural ingredients. The BB serum is applied with a Dermapen, which uses microneedles to penetrate the skin. Microneedles are so small they can barely be felt, and the treatment is extremely gentle.
The skin glow treatment improves your skin by clearing and unclogging your pores. It also speeds up the growth of new skin cells, which makes your skin healthier and brighter, and reduces the impact of ageing skin cells.
WHAT TO EXPECT FROM A BB GLOW TREATMENT?
Set your expectations high, this treatment is designed to improve the look and feel of your skin fast, with visible improvements often discernable immediately after your first skin glow treatment.
Some of the improvements you may notice include:
Fewer freckles
Brighter, more radiant skin
A more even skin tone
Less skin discoloration
Fewer fine lines and wrinkles
A BB Glow treatment will leave you feeling more confident about your skin.
WHAT ARE THE ADVANTAGES OF A BB GLOW TREATMENT?
The most significant advantage of a skin glow treatment is how long it lasts. After your course of treatment, the treatment results can last up to four months. The treatment is safe, and the BB serum is free of parabens, fragrances, alcohol, and allergens.
There's no pain or downtime with the treatment, so you can resume your routine as soon as you finish. You'll see results immediately, but the serum will also continue to work for two weeks after your treatment. Many clients repeat the treatment two or three times to maximize its effectiveness.