**NEW – Jet Peel/Oxygen/Hydra Skin Therapy

This skin rejuvenation treatment exfoliates the skin by painlessly removing the dead layer of the skin cells that adversely impact your skin's natural healthy lustre. It hydrates through a gentle moisturizing jet stream that cools and comforts the skin. It penetrates, rejuvenates and oxygenates your skin by infusing oxygen into the deep dermis to recharge and revitalize these cells, improving skin texture, tone and color. It's an all natural air and water dermal infusion – a deep serum and solution penetration without needles – which can be combined with other treatments such as chemical peel or laser resurfacing.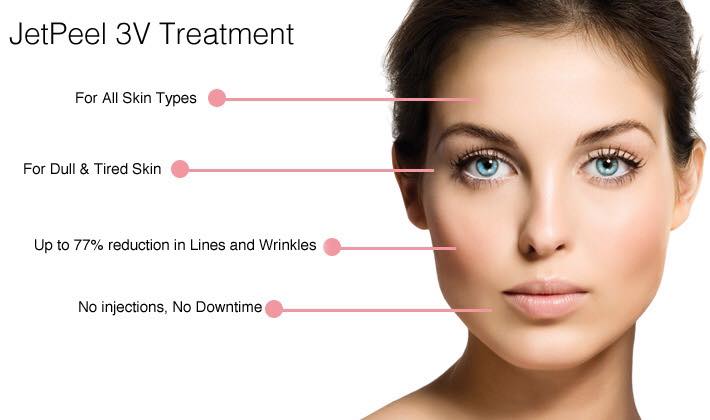 Each Jet Peel treatment gently pressure-washes your skin simultaneously on five different levels. This gentle cleansing unclogs pores and removes debris using water, oxygen and other optional serums delivered at supersonic speed.
Jet Peel Hydra Skin Treatment
Hydra skin treatment uses micro-particle spray therapy which is infused with regenerating serums, such as stem cell (regenerates the skin), hyaluronic acid (plumping) and hexapeptide8 (natural Botox melts away the depth of wrinkles)
Leave the skin glowing and youthful.