Hydradermabrasion – The New Microdermabrasion
Lifts, tones, firms face/body skin and muscles while stimulating the lymph & circulation to promote healthy, detoxified skin. Individual and Maintenance Sessions. Packages Available.
Hydradermabrasion is a relatively new term in skin care.  Spa facials have been around for many years, then came microdermabrasion, now the next step up is hydradermabrasion.  Hydradermabrasion works very much like microdermabrasion because it uses a rough tip to break up the skin's surface, and a vacuum sucks away the debris.  Unlike microdermabrasion, hydradermabrasion is wet – while the tip is breaking up the skin, and the vacuum is sucking away the debris, a skin care solution is applied to the skin.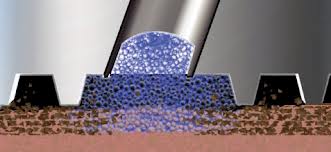 Hydradermabrasion can help correct many skin conditions.  It is great for mature skin, aging skin, menopausal skin because it helps reduce fine lines and wrinkles, done correctly it can help build collagen, and it deeply hydrates dry, mature skin.  For oily/acne skin, it can exfoliate the dead layer so that oils can get out, it can control oil and it can help extract blackheads and whiteheads.  For rosacea, it can gently exfoliate without irritating, and bathe the skin in antioxidants specifically for rosacea.  Melasma (hyperpigmentation) can be lightened with hydradermabrasion by exfoliating the skin and turning over skin cells quickly to lighten pigmentation.
To prepare for a hydradermabrasion treatment, discontinue Retin-A products for 5 days prior to treatment.  Do not tan before a hydradermabrasion treatment.  Inform your Esthetician if you have ever been on Acutane.